NOTE:If this page does not fit on your computer screen, roll the wheel between the buttons on your mouse while holding down the Ctrl key to change the page size.

Return to the Penticton Seniors' Computer Club home page.

Improve your communications with
family and friends.

Use email to send and receive text messages conveniently.
Use email to send and receive photos. Get to see your grandchildren.
Use Skype to speak with and see friends and relatives.
Make web pages to show your family and friends what you are doing and where you have been.
Improve your existing
hobbies.

Create web pages to show your paintings, drawing or other artwork.
Create your own online, electronic books with your writing or poetry.
Create new
hobbies.

Create web pages to collect and show family pictures.
Create DVD disks to show pictures and videos of family events, family history, or vacation trips. These can make excellent personal gifts.
Use a word processor to create your own greeting cards and other fancy documents.
Start a genealogy project using a computer or tablet and share it with family members.
Create music disks obtaining music from . These can be either audio or video disks.
Meet new people
with similar interests.

Join a workshop at the computer club to work with computers along with others.
Form discussion groups with people using your computer to communicate.
Use an Internet social media such as facebook or twitter to share interests with others.
Entertain
yourself.

Reminisce by listening to old radio programs. (Remember Fibber McGee and Molly? The Shadow?)
Listen to radio stations from cities all over the world. (Maybe practice your foreign language skills.)
Play games on the computer. They can be solitaire games or games where the computer plays against you.
Play games on line with others from all over the world.
Find answers to questions
and problems.

Use search engines such as Google and Bing to find answers to questions.
Subscribe to newsgroups on particular topics to shares information with others. For example, join a group about travel, medical conditions, or particular hobbies.
Use Wikipedia, the online encyclopedia to look for information.
Search for and view instructional videos on almost any topic of interest.
Learn about
computers and tablets.

Find out about the various different kinds of computer.
Discover the difference between computers and tablets.
Learn what steps to take to keep your computer or tablet running and troublefree.
Learn how to use the numerous programs and apps (applications) on your computer or tablet to do a wide variety of things.
Use your
computer for business.

Make a photo disk of pictures of your home for insurance purposes.
Many seniors run a small business such as a bed-and-breakfast, or do photography or art work and sell it. Create web pages for your business.
It is easy to join the
Penticton Seniors' Computer Club
. To Join, drop in at the Centre Computer Room at the Leisure Centre, 439 Winnipeg Street, on either Monday or Friday from 1:00 p.m. to 2:30 p.m. There you will be registered as a member and also registered for any available courses.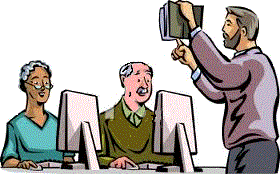 Our membership year runs from Sept 1st to August 31st and the cost Is $80 for the year. This pays for all the courses and workshops that are available and to ask questions of the instructors during drop-in times.
Those joining after Jan 1st will pay a reduced membership.
The motto of the Penticton Seniors' Computer Club is Seniors Helping Seniors. So if you are a senior you do not need to be shy about attending classes or workshops.
Courses, workshops and dropins are scheduled throughout the week as shown on the course calendar. Once you are a member of the club, these are all given with no charge. You must register for a course, however dropins and workshops can be attended without preregistering. Typically a course lasts one month with one two- or three-hour session each week. Courses usually have no more than four or five students.
Click on the button below to see the course calendar.
Below are 43 examples pf computer projects. When you join the computer club you can attend courses, workshops or dropins to find out how to complete any of these you might be interested or any other projects. Some are short, simple projects while others, such as genealogy, are ongoing projects.
Click on any of the project cards below and drag it to read it. Click on the Pile button to stack them again. Click continuously on the Next or Prev button to read cards in order.
Create a Music Disk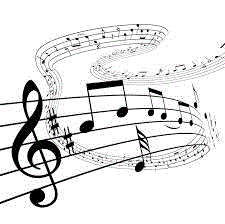 There are many songs available on
YouTube
. All one has to do is to go to the
YouTube
web site and specify the name of an artist and/or the name of a song to get one or more
YouTube
videos. These can be downloaded, converted into either a different video format for storing on a disk or even just an audio format. These music files can then be burned onto a CD or DVD to create an audio disk or video music disk.
Create Personal Calendars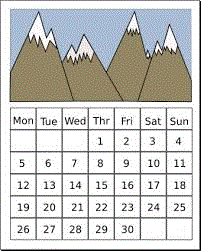 You may have adult grandchildren and have pictures of them from the time they were babies until they were grown. It is easy to use free computer programs to create personal calendars for them. Each month would have a calendar of that month along with a picture. January would have a baby picture, February a picture from early childhood, March a later picture, and so forth, until December (and next January) would have adult pictures. Such calendars make excellent Christmas gifts. Entertaining captions can be used with each picture.
Make a Movie DVD of a Holiday Trip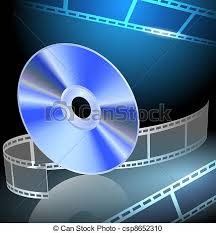 If you take a digital camera on a holiday, you will likely take many pictures and video clips. These are not particularly useful stored in your computer. It is easy, however, to use free programs on your computer to make a movie DVD of these pictures by editing them, organizing them, adding captions and music, and then burning the results onto a DVD. Such disks make excellent gifts for people who were on the holiday with you or other friends or relatives. They also help you relive and enjoy your holiday again and again.
Start a Genealogy Project for your Family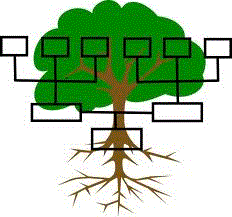 A very interesting hobby is genealogy. It not only lets you find and organize information about members of your family, but it also gets you in contact with family members to collect the information. As the project grows, you can share the information and charts with other family members.
You can start such a project very easily with free software. Then if you find it too onerous or not interesting, you can stop. Otherwise you can continue, ever expanding your family tree, and get help by working with others doing their own genealogy. There is also a local genealogy club that you can join for help.
Make a Picture Disk of Old Photos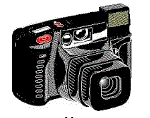 Many people have old photos (from the 1930's or even earlier) either stored somewhere in a box or in photo albums. They very likely do not get looked at very often, if ever. Scanning these pictures, editing them to get rid of tears and stains, organizing them to put them in chronological or other kind of order, and adding captions can be an interesting project. These can then be burned onto a DVD or other disk.
Once an old picture is cleaned up and shown larger on a computer screen, it takes on a new life.
Read the Old Classics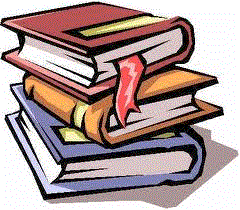 The books written by famous authors years ago, such as
Treasure Island, , Tom Sawyer, Tale of Two Cities, The Adventures of Sherlock Holmes,
and so forth, are no longer copyrighted. Therefore many of them are available to download free. If you like reading and would like to enjoy the old classics again or for the first time, you can use your tablet (or computer) to download and read them.
Listen to Radio Stations from All Over the World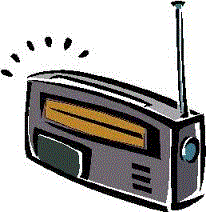 You may have a favourite vacation country or city so it would be interesting to listen to radio stations from there when you are at home. If you know a language other than English, you can listen to radio stations broadcasting in that language to keep up your language skills. Or you can listen to police/emergency radio from various places. You can download an app for your tablet to let you listen to these radio stations or, you can go to various web pages on your computer to do the same.
Find Out How
Make Web Pages to Share Family Occasions

You may have family members living in other parts of Canada or the world who cannot share family occasions (birthdays, Christmas, reunions, and other celebrations) directly. It is easy to make personal web pages to record such occasions and make them available to other family members and friends. If you do not particularly have any artistic skills that is okay. Otherwise, these skills can be used to create wonderful, enjoyable web pages.
Join the Computer Club and Become a Helper or Instructor

Even if you have only fairly basic computer skills, you can be a big help in a
Penticton Seniors' Computer Club
workshop, dropin or course. While helping out, you will undoubtedly learn more and eventually feel confident enough to have your own course or workshop. Of course, you can just join to learn, make new friends, and enjoy life with a computer or tablet.
Use Fonts and Scrollwork to Create Fancy Documents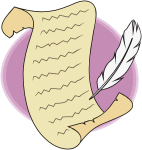 There are thousands of fonts and many fancy decorations available on the web. These along with special paper (such as parchment paper) can be used to create various special documents. For example, you can create congratulatory documents, print diplomas, print favourite poems or saying suitable for framing or sending as gifts, and so forth. And, of course, you can include your own photographs if desired.
Use a New Computer Medium To Do Artwork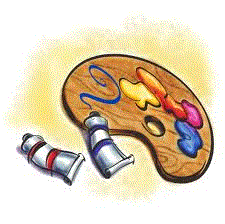 There are programs available for computers which enable one to create pictures and alter them. Thus an artist wishing to try a new medium can use his or her computer. Such packages can provide interesting and useful effects which would not be available with other manual media. For example, programs can help produce 3-D or perspective effects. Another example is an app for an Android tablet which converts each photo it takes into line drawings. An interesting project, therefore, might be to take such line-drawing pictures of all the historic buildings in the area, edit them and then print them suitably for framing.
Use the Web to Visit Countries All Over the World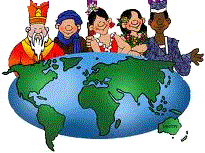 Wikipedia has entries for all countries in the world, providing information about the history, geography, languages, economy and so forth. You can use this facility to visit any country or countries vicariously, and compile a notebook or picture album for these countries. You can also search for and download music or artwork from these countries, find recipes for local food and have meals with their cuisine, listen to radio stations from cities in that country, and so forth.
Create a Presentation for a Club or Other Group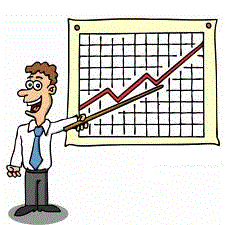 Microsoft's
Powerpoint
and other programs are available to create presentations that can be used at club meetings, conferences, family gatherings and so forth. You can include photos, charts, lists and sound in these presentations. For example, you could create a presentation showing photos of a family member from the time he or she was a baby to adult, add music and voice comments and appropriate titles. Such a presentation would be interesting and fun at the person's birthday party. Similarly, such a presentation could be used at an anniversary celebration.
Use Word or Excel to Create Charts For Your Home Budget

Home budgetting is often neglected. There are many programs which are useful to help in the budgetting process. For example,
Word
be used to create budget lists and/or
Excel
can be used to create budge tables. Such things can be very useful to keep track of spending throughout the year and compare spending from year to year.
Create a Computer Photo Album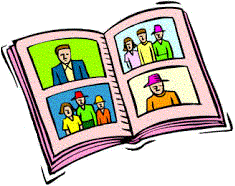 Often people think of a photo album as being family pictures. However if you are a cook, it would be fun to have a photo album of your cooking. Both photos and recipes can be included. Similarly, it you are a gardener, it would be useful to have pictures of all the plants you use along with information about each of the plants. There are many other possibilities where a photo album would be fun and useful. Having a photo album on the computer is particularly handy since its information can be put onto a disk and easily sent to friends and family.
Use Skype to Talk to/See Family Members in Other Countries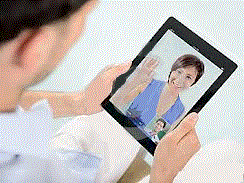 The
Skype
program is available free for use on a computer or tablet. This program can be used to have video conversations with friends and family members no matter where they live. Do you have grandchildren or great-grandchildren living far away?
Skype
can let you visit with them and see them on a regular basis!
Try Innovative Digital Photography
Digital cameras (or tablets) allow one to take pictures freely without having to worry about film or running out of film. When a picture is taken that turns out poorly, it can be reshot easily, or a computer can be used to enhance the picture. Thus you can become a photographer very easily and produce a reasonable portfolio of photos. For example, you may like flowers so you could practice and become good at taking closeup pictures of flowers. Similarly you could develop a portfolio of pictures of local wild animals, sunrises and sunsets, old buildings, local scenery and so forth. Being creative is fun.
Make a Video DVD from Family Email Video Attachments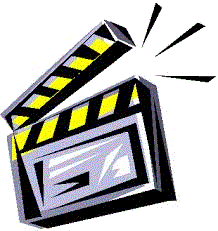 Often your children or grandchildren will use their smartphones or other devices to take short video clips of family activities. They will then send them to you, often turned sideways. You can collect such video clips, fix them up by rotating them or brightening them as necessary and then merge them into one larger video show. Suitable titles and captions can be added. This can then be viewed on your computer or tablet or burned onto a DVD to be shown on your TV set or sent to friends and relatives.
Make a Picture Disk of Your Home for Insurance Purposes
Every year you have to update your insurance coverage for your home and possessions. It is a good idea to have an updated photo disk with pictures showing your home and possessions (jewellery, pictures, computers, appliances etc.) to leave with your insurance company. Such a disk is easily created using your digital camera or tablet.
Use an Audio Editor To Enhance or Fix a Piece of Music.
Use an audio editor to add effects (such as echoes) to music or combine two or more pieces of music or remove extraneous clicks and hissing from a piece of music. You could also use such an editor to record your own voice and add it to music. For example, perhaps you enjoy poetry or short stories. You could create an audio disk which has you reciting poetry or a story with added music and sound effects.
Write and Publish Your Memoirs or Stories.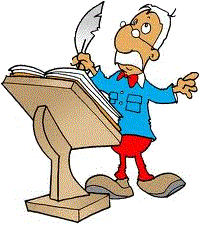 How much do you know about your great-grandparents? Not likely very much. Therefore, if you are a grandparent, you should consider writing your memoirs including information about your grandparents, your parents and yourself and publishing them on the web (perhaps a private web site) or onto a disk. Then your grandchildren can learn about this family history. It would be especially interesting if you could include old photos.
You could also write and self publish stories for your grandchildren.
Monitor a Forum on the Web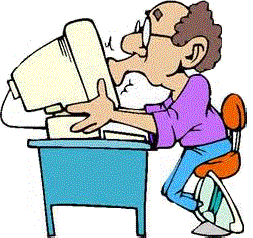 A forum page is a place where people can post questions, answers and comments about some particular topic such as photography, music, some ailment, travel etc. If you are interested in some such topic you could become the monitor for a forum page for that topic. This involves reading the postings on that web page, removing any that were posted but were not for the page topic, and posting suggestions for people having difficulty with the page or the topic.
Learn How Computers Work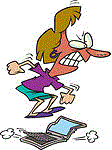 Many people become frustrated when they do not understand what is happening with their computers when something goes wrong. So it is a good idea for these people to learn how a computer works, the basics of its operating system, how data is stored and made available in a computer, and how programs work. If you are one of these kinds of people, join the club and learn how a computer works.
Use Email to Communicate With Family and Friends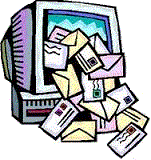 Most people who have computers know how to use email. However, many do not know how to effectively use pictures, videos and sound files with their email messages. Learn how to attach files to messages, converting pictures to appropriate sizes and making sure that the files are not too large. You can make your messages more interesting by including backgrounds and other embelishments.
Use Online Banking

For many years now, banks and credit unions have provided online banking. This allows you to do almost anything that can be done at the bank except withdraw cash. Most importantly, though, it allows you to check on the status of your bank accounts as often as you wish and whenever you wish. The importance of this is that it lets you find out almost immediately if there is a problem with an account. For example, if someone stole your credit card and used it, you would know soon enough to stop any damage. It is also very convenient to pay bills with online banking and keep track of how your accounts are doing as the bills are paid.
Convert Old Audio CDs to Music Flash Drives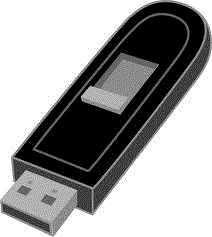 Most of us have dozens or hundreds of old audio CDs. Often we wish to listen to the music of these and have to continually change disks in our home CD player or auto CD player. However, most home and auto players will now accept music files in mp3 format, and this format means that many more songs can be stored on a disk or flashdrive (memory stick). Thus a good project is to convert your old audio CDs into mp3 format and store the songs on data disks or flashdrives which can then be used at home or in your auto to listen to music without having to continually change disks.
Send Voice Messages Via Email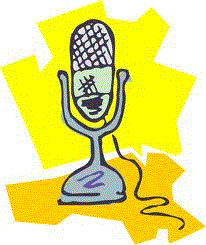 A computer normally has a microphone input jack and a program to record sounds. Thus it is easy to record ones voice into a sound file and then include this sound file as an attachment to an email message. There are many programs available to let one edit such voice files to improve their quality, combine more than one sound file, add background music to a voice, and so forth. Sending such a voice message (which could include singing if desired) to a relative or friend on some special occasion such as a birthday would be great fun.
Plan Travel Using Your Computer or Tablet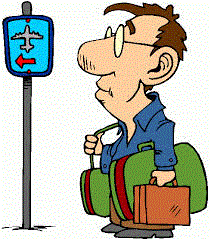 There are many web sites that allow one to locate places all over the world, find out how to get there, select and even make reservations at accommodation sites, and get the cheapest rates for travel and accommodations. If you are not already using these facilities, you should try them for your next trip or even use them to find some travelling that you might enjoy.
Help Sell Your House Using Your Computer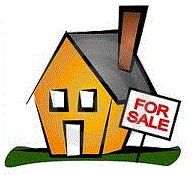 You can use a web site and/or a DVD movie disk to help sell your home. A floor plan can be included in such a way that clicking on any room shows a picture of that room. Similarly a video can be included which shows a walking tour of the home. There can be pictures not only showing the front and back of the home, but also pictures showing the view across the street and up and down the street. There could be a map which shows the area within walking distance of the house which could have clickable points to show scenes and facilities within this area. Similarly, another map could show facilities within a short driving distance. Such a DVD or web page can be given to prospective buyers so that they can peruse them to see the advantages of buying your home.
Learn New Games and Play Online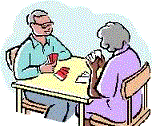 There are hundreds of games that one can play online. Some are solitaire types, while others have you play against a computer. But there are many that have you play against other real people from all over the world. There are card games, board games, adventure games, puzzles, memory games and so forth. Playing such games can be a very interesting hobby and help keep your mind alert.
Read Newspapers and Magazines Online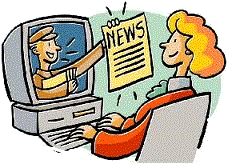 You may wish to keep in touch with what is going on in a distant city--perhaps one where you used to live or one where family currently lives. One good way to to this is to read newspapers or magazines from that city. Some of these one has to subscribe to but others can be read free. Use your computer or tablet to access them conveniently.
Have Your Own Personal Homepage


It is easy to create a web page and store it in your computer to use as your own personal homepage. You can then set up your web browser to show this page whenever it starts up. This homepage can have links to all the web sites that you like to visit. For example, you can have a link to the page that shows the current Penticton weather as well as to links that show the current weather in other cities (click on either of the pictures above). You can have links to any store sites that you like to visit, to your bank, to post office services (eg, find postal codes), to search engines, and so forth. You do not have to use a web server to have such a page.
Find Out How
Help Provide Information for the Club Web Pages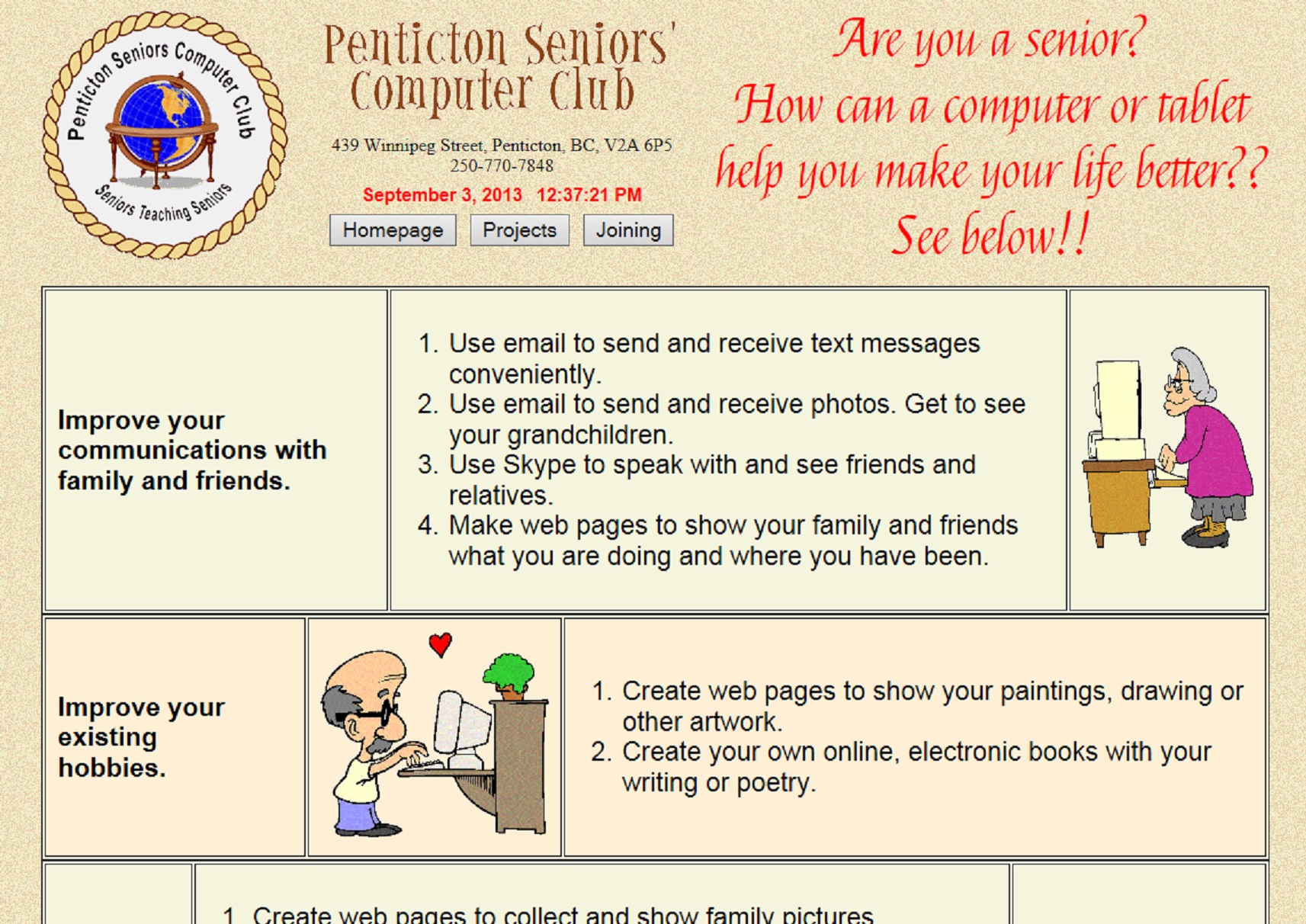 It is difficult for any one person to know what people want on web pages such as those for the
Penticton Seniors' Computer Club
. Therefore it would be extremely useful to have one or more other people, interested in helping out, to make suggestions on new content for the pages. They do not need to have any knowledge of web page making, just be able to browse the web to find useful sites, to be available to discuss with other club members what content is desired, and be available for people to email suggestions for the web pages.
Update or Replace Your Computer or Tablet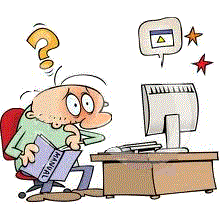 Your computer or tablet may be getting old and not working efficiently. Thus it may be time to update or replace it. For example, you may wish to switch from a desktop computer to a laptop computer which is smaller, portable and which can be taken on trips. Or you may wish to convert to using a tablet or add a tablet to your facilities. The computer club can help you considerably in such endeavours.
Make Wine (or Jam or Marmelade) Bottle Labels
You may make your own wine or make jam, marmelade or some other bottled food. It is fun to have your own personal labels for such bottles, especially when you give them away as gifts. Labels are easy to make using a program such as
Word
or some other word processing program and can be made personal. You could have your own picture on them or a local scene or some design that you created yourself.
Use a Computer Project as an Incentive to Tour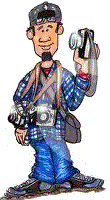 It is fun and fairly easy to create some computer project which uses pictures. For example, one can make a web page, create a movie DVD or create a presentation using some program such as
Powerpoint
. You can use such a project as an incentive to visit and tour local cities and the area. It is fun, for example, to take a day or more to tour, say, Penticton taking pictures of the beautiful scenery, old and new buildings, shopping areas, the beaches and other landmarks. This could even be extended to include more than one city and perhaps the whole Okanagan. It would be like a vacation at home. It can include picnics and provide an opportunity to find new restaurants.
Become an Expert in using Google Earth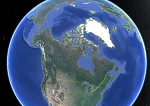 Google Earth is a free program that enables one to view areas all over the earth and zoom in to see even homes within cities (even your own home and yard). It also has street views which are pictures along streets and other pictures showing scenery at many locations all around the world. It also provides directions and map, showing how to get from one location to another.
Many people just casually use Google Earth to replace an atlas to find places. However, it provides much more if one takes the time to learn how to use it. It also includes Google Space which lets one view areas of space.
Join Facebook or Other Social Media Sites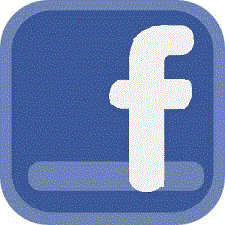 Many people have joined
Facebook
or other social media sites in order to keep in contact with friends and relatives and to share information. If you feel comfortable in doing this, you should learn how to use such sites safely and effectively. Otherwise, you can also share your experiences by having your own web site, using email or creating movie disks with pictures and videos from your life.
Use Your Computer to Remember Things To Do

There are many facilities available for your computer or tablet which enable you to store information about jobs or other things that you need to do and then remind you when they are due to be done. For example, you can have your computer remind you of anything that is scheduled to be done that day or in the near future when you start it each morning.
Make Personalized Tee Shirts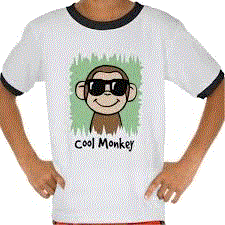 There are transfer sheets that one can print on and then iron the picture, words, designs, or whatever was printed, onto clothing material. Thus one can create designs and put them onto tee shirts or other articles of clothing to personalize them. They would make great gifts for friends or family members or could be used for members of a club or other group. Transfer sheets are available for light or dark material.
Do Computer Calligraphy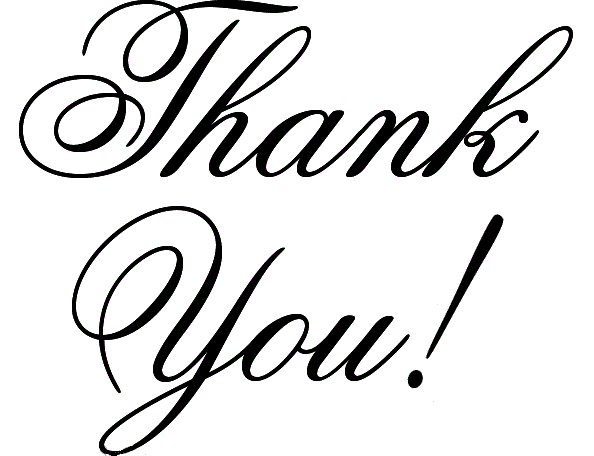 Thousands of fonts are available to download and use on ones computer. Similarly there are many fancy design line images suitable to frame text or insert between paragraphs of text that can be downloaded. Therefore one can create a collection of valuable tools to use when making fancy documents. If one is serious about such a topic he or she can even use font editing software to create their own fonts.
Explore Your Computer Data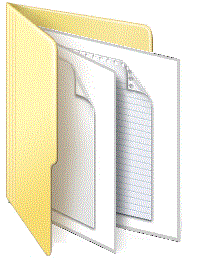 One program that is available on all Windows computer is
Windows Explorer
. It allows one to see what data is stored on the various computer disks, copy data from one place to another, add data or delete data. Most casual computer users have only a very limited knowledge of this extremely useful program. A good project is to learn how to use this program to manage the data on your computer, including backingup the data.
Convert VHS Videos to DVD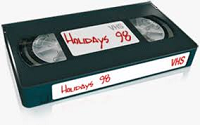 Convert video clips on old VHS tapes into video files and if desired, put them onto a DVD. Many video clips of family members and occasions can be collected this way and made into a DVD movie.
The club's Wednesday afternoon workshop provides facilities to do this conversion.
Make Instructions Easier to Read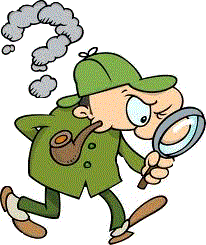 Did you just get a new electronic device with an instruction sheet too small to read? If so, scan the instructions, copy them to a document making them larger, and print an instruction sheet you can use.
If you do not have your own scanner you can use one at the computer room of the Computer Club.